You can make a difference in the lives of New Hampshire families. Your donation to the ReStore is helping Habitat build strength, stability and self-reliance. All of the proceeds generated by the Southeast New Hampshire Habitat for Humanity ReStore stay in the communities we serve – Strafford & Rockingham Counties. 
~To make a monetary donation to Southeast New Hampshire Habitat for Humanity
~To donate items to the Southeast New Hampshire Habitat for Humanity ReStore- READ ON!!
If you have additional questions, feel free to call, (603) 750-3200, or email: donate@nhrestore.org
READY TO DONATE?
Donation Center Hours:
Tuesday – Saturday
9:00AM – 4:30PM
(

We're closed on Sundays & Mondays

)
 No appointment necessary to drop off donations.

 
If you are unable to bring your donation to our ReStore,
please call us to schedule a pick-up.
To inquire about a pick up:
Check out our service area to see if your town is serviced by our Habitat Chapter/Affiliate

here

.

 
Items We are Temporarily
Not Accepting:
Bath Tubs
Bed Frames
Door Knobs (Unless Antique)
Mirrors
Shutters
Sinks
Tiles
Wall Units
Please see additional lists of items that we do & do not accept at the bottom of the page.
If you have any of the following items to donate, please check back in a week or two to see if they have been removed from the list.
These are items that we currently have no more space for on the sales floor.
DROP OFF INFORMATION
Our convenient drive thru donation center makes donating a breeze and all donations are tax deductible. No appointment is necessary.
Can't come to us? We pick up Tuesday – Friday in Strafford County and most of Rockingham County. Give us a call at 603-750-3200 or email donate@nhrestore.org to schedule a donation pickup.
We encourage homeowners, builders, contractors, businesses and distributors to donate new or re-usable kitchen cabinets, appliances, furniture, doors, windows and building materials, as well as any inventory that is overstock or discontinued. The ReStore offers an alternative, cost-effective means for disposal of good, clean, reusable items and will provide the donor with a receipt suitable for tax deduction reporting .However…Please do not take offense when we ask questions about the items you wish to donate. We need to ensure that they are in the condition we know we can sell in the store. We do not have a repair shop, cleaning department or refinishing department.

We screen all donations and have the right to refuse items. Please call us before you make the trip to the store to donate if you are not certain that the item(s) will be accepted.
Items need to be SALES FLOOR READY and in no need of cleaning or repairs. We cannot accept items that are not clean, have broken parts or do not work, are disassembled, have loose or chipped paint, or mold. Appliances must be cleaned inside and out and in good working order for us to accept them.  You may be asked to send photos if it is not clear to us the age, condition or quantity of the items based on our discussions and/or emails. Items that appear to possibly contain lead will be refused, such as older painted doors and windows and older lighting fixtures with soldered pieces.
Please refer to the list below of accepted items, and note those that are temporarily not accepted due to current inventory levels. If you have a question as to whether your items will be accepted, feel free to call in advance – (603) 750-3200 or send an email to donate@nhrestore.org.
It is costly for us to operate our large truck so there may be items in good shape that we will not pick up, such as smaller items that can fit in a car that you could bring to the store. If we do pick up your items, they need to be in the garage or on the driveway. We do not enter the house or move items up or down stairs and we do not disassemble or disconnect items. Items must be dry; even if they are covered outside but somehow still manage to get wet, we will not be able to accept them. So please be cognizant of our situation.
PLEASE DO NOT DROP OFF ANY ITEMS AFTER STORE HOURS.
This exposes the store to potential liability for injuries or property damage if items left outside the store are blown over or knocked over onto a vehicle or a person.
Also, items left that we do not sell in the store increases our trash removal costs.
TAX DEDUCTIONS
Habitat for Humanity is a not-for-profit entity and your donations are tax-deductible. Please be aware that we are not able to assign a value to any donated items. Our donor receipt includes our Federal Tax ID Number and an IRS website that will help you determine the value of your donated property.
FULL KITCHENS
For full-kitchen donations, please email photos of the kitchen before it is removed from the home to donate@nhrestore.org with a description of what is included in the donation, e.g., cabinets, countertop, sink, appliances. This helps us determine if we can accept them, determine the amount of space needed in the truck and allows us to promote them on our website.
LOOKING TO MAKE A MONETARY  DONATION OR VOLUNTEER AT A BUILD SITE?
Please visit the Southeast New Hampshire Habitat for Humanity Affiliate Page for information.
SENH HFH RESTORE SERVICE AREA

PLEASE NOTE:
We can ONLY pick up donations in the towns listed below.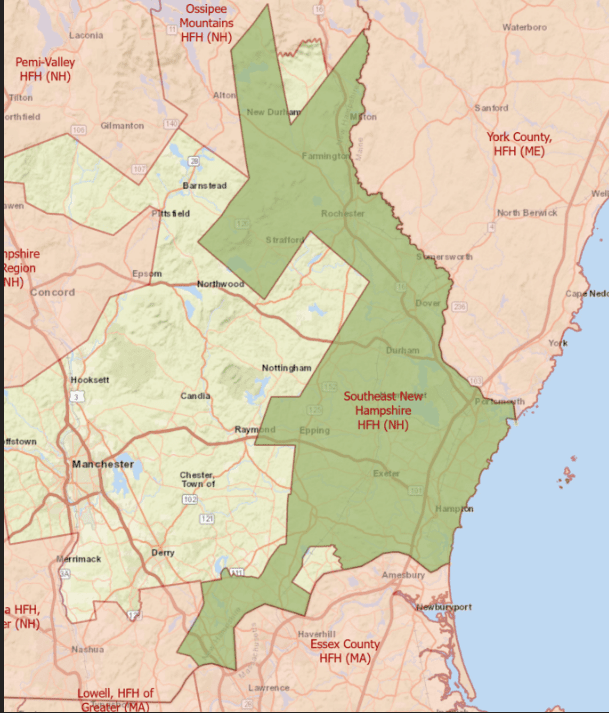 All of Strafford County:
Barrington
Dover
Durham
Farmington
Lee
Madbury
Middleton
Milton
New Durham
Rochester
Rollinsford
Somersworth
Strafford
Parts of Rockingham County:
Atkinson
Brentwood 
Danville
Deerfield
East Kingston
Epping 
Exeter 
Fremont
Greenland
Hampstead
Hampton 
Hampton Falls 
Kensington 
Kingston 
New Castle
Newfields 
Newington
Newmarket
Newton
North Hampton
Northwood
Nottingham
Plaistow
Portsmouth
Raymond
Rye
Salem
Sandown
Seabrook
South Hampton
Stratham
Items We are Happy to Accept Include:
Appliances – washers, dryers, refrigerators, microwaves, electric ranges, freezers, etc. We can not accept gas appliances, trash compactors or dishwashers. Must be "sales floor clean" in need of no cleaning, inside and out, electric only, in 100% working order, no missing or broken parts and 10 years old or less, microwaves must have rotating glass plate.
Air Conditioners – 5 years old or less, can't contain R22 Coolant.

Architectural Items – columns, antiques, mantles, etc.
Cabinets – kitchen or bath complete with doors, drawers, and hardware intact (please do not remove doors and drawers from the cabinets). Must be cleaned with no damage, rot, food remains, mold, mice droppings or mice nest remains; remove all shelf paper and drawer liners.
Carpet and Pads – must be new and never installed, we do not accept area rugs.
Counter Tops – good condition, no chipped or loose laminate, straight pieces only with no corners, no sink or sink cut-out, minimum length 6-feet. If you are donating kitchen cabinets, we will gladly accept the countertops that go with them if they are in good condition.
Doors – good condition, no broken glass, no holes or deep gouges, no water damage or splintering, no lead paint; sliding glass doors must be wood or vinyl (no aluminum) with all doors inside the complete frame, not broken apart. We do not accept bathtub or shower doors.
Electrical – lights and fixtures in good working condition, no broken glass; parts and supplies; ceiling fans must be in complete working order with all pieces intact.
Flooring – hardwood and laminate new in the box, new vinyl rolls, new carpet rolls, ceramic, stone or vinyl tiles (brand new only – 100 sq. feet or more).
Furniture – case goods (wood, metal, glass) – tables, chairs, bureaus, bookcases, hutches (we will not accept a hutch top without the bottom cabinet), etc., in good, clean condition and not in need of any repair, no broken doors, drawers, legs, no missing or broken glass, no missing handles, chipping or peeling paint, no rot or mold, no stains; leather, Naugahyde, vinyl chairs and sofas in good, clean condition with no tears or stains; select high-end new or like-new upholstered furniture – requires manager approval; no bedding, mattresses or box springs.
Hardware – door knobs, hinges, cabinet handles and knobs, locks. Nails, bolts, nuts, screws new in the box; no jars/cans of random nails, screws, etc.
Insulation – styrofoam boards, rolled fiberglass must be clean with backing in place and no tears and must be in contractor plastic bags
Landscaping – patio and paving stone, brick, shovels/rakes, etc.
Lumber – at least 4-feet, if deconstructed must be completely de-nailed, free of rot and water damage, and free of any twisting and bowing.
Plumbing – Parts and supplies, sinks, tubs/showers, toilets only if brand new in the box; no containers of random fittings.
Plywood – 4 x 8 sheets only.
Roofing – shingles (full bundles only), roofing paper, ice & water shield, drip edge full lengths.
Sheetrock – 4 x 8 sheets only.
Tools – hand, garden, working power tools.
Windows – insulated double pane glass, no broken glass, no fogging between panes, framed only (no sashes), no rot, mold or chipping paint on wood frames, no cut or broken sills, no broken cranks or missing handles on casement windows.
Wood stoves – must be cleaned out.

Items We CANNOT Accept Include:
Radial Arm Saws
Large Entertainment Centers/Wall Units
Metal Desks
Headboards without the rest of the frame
Glass TV Stands
Large office Furniture
Glass Top Dining Tables
Sewing Machines or Sewing Machine Cabinets
Wall Ovens
Mattresses
Box springs
Televisions/computers/electronics
Appliances that are dirty or broken
Gas appliances , hot water heaters, furnaces
Dishwashers or trash compactors
Paint or stain
Lead-based materials including painted doors over 30 years old
Aluminum sliding glass doors/ glass door panels with no frames/ unassembled sliding glass or atrium doors/ glass shower doors
Used toilets
Vanity tops without the cabinet
Toxic materials: pesticides/weed killer
Window blinds/draperies
Fluorescent lights or bulbs, recessed lighting, track lighting
Window parts or pieces/single-pane windows/window sashes
Unframed mirrors
Glass panes
Used carpet or rugs
Used tile, flooring, etc.
Pianos/organs
Baby furniture
Clothing/bedding
Toys
Dishes/glasses/houseware
Weapons
Exercise equipment
Broken, dirty, moldy or incomplete items
Unassembled items
Trash
* If you are unsure about whether we will accept a donation please call us: 603-750-3200 or email us at donate@nhrestore.org. If you bring unacceptable items to the ReStore we can not allow you to throw them into our dumpster. 
Thank you for understanding that we pay for waste removal, and any item donated that we must dispose of is a cost to us.
Inquire about current volunteering opportunities. We'd love your help!

Located at:
29 Fox Run Road Newington, NH 03801
Phone (603) 750-3200
Email: manager@nhrestore.org
Donation Email: donate@nhrestore.org
ReStore Hours:
Tuesday – Saturday 9:00– 5:00
Donation Center Hours:
Tuesday – Saturday 9:00 – 4:30
We are pledged to the letter and spirit of US policy for the achievement of equal housing opportunity throughout the nation. We encourage and support an affirmative advertising and marketing program in which there are no barriers to obtaining housing because of race, color, religion, sex, handicap, familial status or national origin.